Our Smartphone Clocking App has some new features
ERS is excited to announce that we have upgraded our Mobile Clocking App, now titled "ERS Mobile Clock Plus", to supply our users with a faster experience and more functionality. The app is now also available on iOS for Apple users, and is compatible with version R13 and up of our software.
GPS coordinates of clocking locations
The ERS Mobile Clock Plus is a SmartPhone Time and Attendance Clocking APP that enables employees to clock IN or OUT from a remote location, using the phone's GPS functionality to plot them on Google Maps, to verify their location.
Supports External Fingerprint Module
The App now supports an external fingerprint plug-in module, ensuring positive identification of multiple employees on one Smartphone. Phones must be USB OTG "On the Go" compatable. This functionality is currently only available on Android.
Links to the ERS Biometrics Time and Attendance Software
All clocking information is viewable in the ERS Biometric Time & Attendance Module, giving you extensive tools and reports to properly manage your remote employees' time worked. The app has an added feature, where total hours worked is displayed per day and/or per week, and multiple employees can be loaded onto a single device and selected via a drop-down menu.
Leave
One of the newest features of the app is the Leave Module. Employees can now apply for leave from their phones, where a notification will be sent directly to their manager. If approved, the employee will be notified and the system updated automatically. This saves time and unnecessary paperwork to be filled out.
Geofencing
Geofencing uses GPS or RFID technology to create a virtual geographic boundary, enabling our software to trigger a response when a mobile device enters or leaves a particular area. The areas can be set around a building or site, or a larger area, which would automatically clock an employee IN or OUT.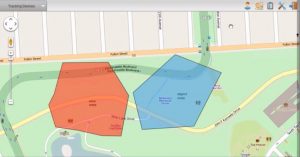 Additional features:
Photo function for visual evidence
Job Costing functionality
Contact us for a FREE consultation to discuss the various ways in which our mobile app can benefit your business.
Our various software modules can be found here.