THE ERSBio SMARTPHONE CLOCKING APP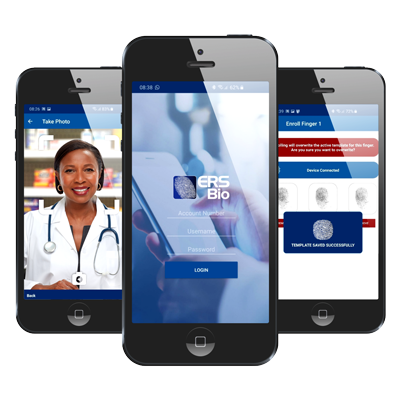 The "ERSBio R13 & R14" Apps are SmartPhone Time and Attendance Clocking Apps that enables employees to clock IN or OUT from a remote location, using the phone's GPS functionality to plot them on Google Maps to verify their location. Both Fingerprint and Facial options are available. All clocking information is viewable in ERSBio's cloud-based software, giving you access to extensive tools and reports to properly manage your remote employees' time worked.
• Mobile Time & Attendance
• Mobile Job Costing
• Mobile Leave Management
• GPS coordinates of clocking locations
• Clock multiple employees on one phone
• Facial Recognition now available*
• Supports External Fingerprint Module (Android only)
• Geofencing auto clocking
• Photo function for visual evidence
• Links with ERSBio cloud-based software
• Real-time Reporting
*T's &  C's Apply
Please note that you will need to be a registered ERSBio client and your account will have to be set up before you can use the App. 
CONTACT US FOR A FREE CONSULTATION & QUOTE