The ERS Biometrics™ Time and Attendance module enables companies to accurately manage their employee attendance, hours worked, overtime taken, leave submitted, etc. The module takes away many of the manual processes, allowing for easy exception management.
Advanced Shift Management
Our Time and Attendance software enables the system administrator to set up and manage an unlimited number of shifts, or allocate employees or groups of employees to single or multiple shifts. Our shifts setup makes allowance for multiple shift rules, grace periods on start and finish times, break periods, varying time types, allowances as well as overtime parameters.
The ERS shift wizard takes a step by step approach to assist the system administrator to set up a shift from A-Z, ensuring that all the required elements have been included.
Schedule your shifts
ERS provides both the ability for the Time and Attendance system to automatically detect which shift was worked by an employee or to specify which shift should be worked on a given day on a schedule.
Comprehensive reports
A variety of reports are available to view the daily clocking of employees, short time worked, absenteeism, even an audit of edits made in the Time and Attendance module.
All ERS reports have the ability to be set up to be automatically sent through daily to a specific email address at a predetermined time.
All ERS reports provide the system user with all data. The user then has the ability to filter out the data which they don't require to view. This customised view can be saved for future use if required.
All of the Time and Attendance reports can be automated to be sent out daily to specific email addresses at predetermined times, getting rid of the need to log into the system to pull daily reports.
Leave Management
Our Leave Management Module option provides the facility to preload annual or sick leave for employees, reducing the need for modifications at a later stage.
Preload Overtime
ERS provides the option to either add Overtime as a standard within the shift setup or to only allow for Overtime if preloaded for an employee or group of employees for a specific period, once authorized.
Clock Management
All clocking times are imported in the Time & Attendance module, in order to apply the shift parameters, Public Holiday and leave days setup, for the employees. This process can either be manually edited as and when required or automated on a daily basis.
In the event of employees not clocking IN or OUT, clocking outside of their allocated shift parameters, etc. the system will clearly indicate the indiscretion. The system administrator can request to view only the exceptions, or all the clocking data, if required.
Export to Payroll
ERS provides a dynamic link between the ERS Time and Attendance system and any payroll management solution, which has the ability to import data. ERS has successfully linked to all known payroll solutions in the marketplace, through either generating export files or through API's.
Time & Attendance Enforcer
To Manage a payroll accurately is one of the easiest ways to ensure cost savings and improve efficiency.
Through the ERS Biometrics™ Enforcer Module, it is possible to accurately track clocking times and act on any exception quickly. The Module highlights any Clocking indiscretions, like late arrivals and early departures resulting in Short time, No clocks / absenteeism and unauthorized overtime. The ability to act on problems like these before they become a trend allows companies to cut down dramatically on lost work hours.
The module automatically sends an email notification through to the designated manager of the clocking exceptions for either their comment or correction. If not acted upon within a set period of time, the notification can either repeat or be escalated to the next level of management.
This automation process allows for all clocking issues to be corrected shortly after they occur, resulting in minimal pay queries at pay run time.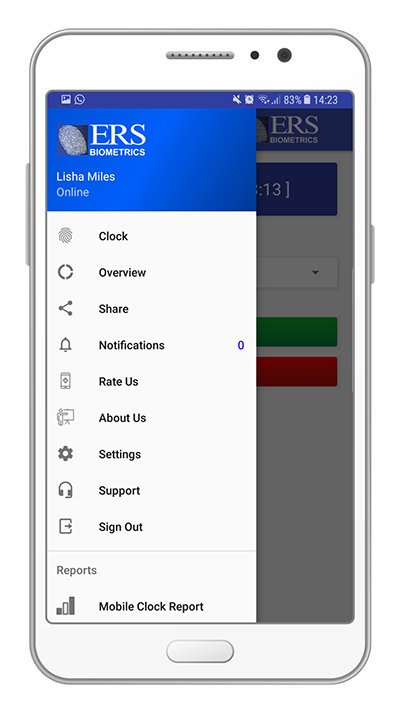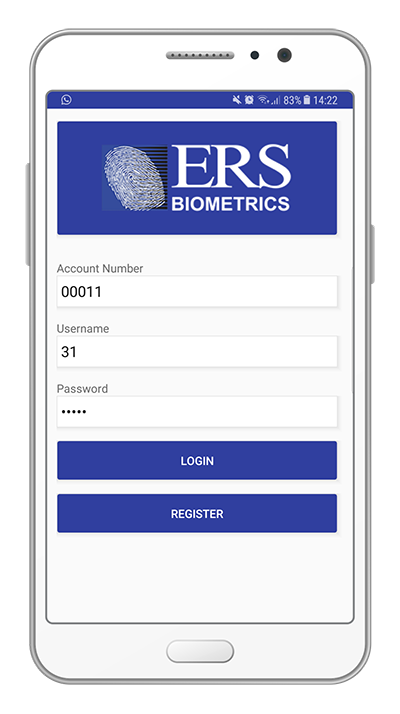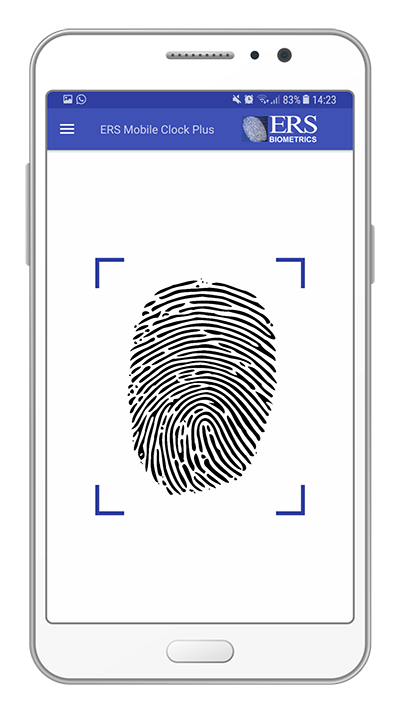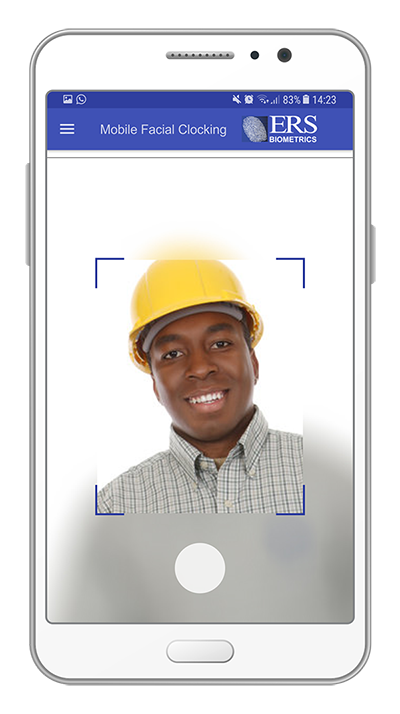 The Next Step In Time Management
The ERS Bio Plus is a SmartPhone Time and Attendance Clocking APP that enables employees to clock IN or OUT from a remote location, using the phone's GPS functionality, to plot them on Google Maps to verify their location.
All clocking information is viewable in the ERS Biometrics™ Time & Attendance Module, giving you extensive tools and reports to properly manage your employees' time worked.
Your Smartphone becomes your clocking device, and enables you to clock multiple resources on one phone, also giving you the ability to allocate them to certain job codes for activity costing.
This enables the tracking of those employees previously difficult or impossible to manage. Employees can clock IN and OUT through the mobile APP on each and every site or appointment to also measure the duration of their visit.
Positive identification through biometrics is key to proper access control.
The ERS Biometrics™ Access Control module will allow you to manage your access control remotely, creating a secure business premises.
Cloud-based
The ERSBio Access Control Module enables your administrator to grant or deny access rights to an employee or group of employees online, at the click of a button. The Access Control Module can be accessed from any SmartPhone / PC with internet access.
Secure Access Control Management
Business biometric access control is one of the first lines of security for any business or property. It is therefore critical to ensure that you can effectively and quickly manage this from a central point. The ability to quickly add and remove authorized individuals, enables a company to maintain a high level of security, at their respective access points.
Time Zones
The module gives the ability to limit access to certain areas, as well as access at specific times, ensuring that you won't need to monitor access 24 hours a day. Only those allowed to access certain areas will be granted access at the allotted times.
Temporary Access Rights
Limited access can also be provided by specifying the days and times in which an employee may work. This can also be used to tightly manage your visitors.
Access Control Hardware& Accessories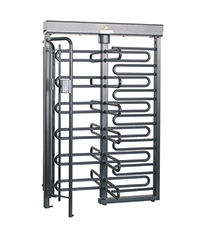 Full-Height Turnstiles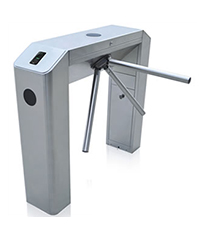 Waist-Height Turnstiles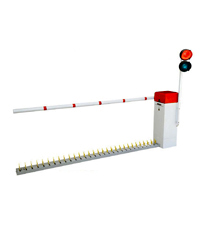 Vehicle Barriers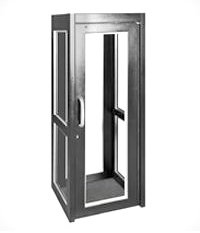 Glass Mantrap Booths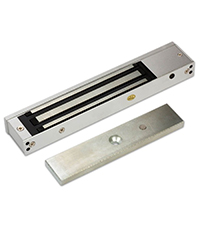 Magnetic Locks
Our Job Costing module allows you to capture your job costing activities online, automatically transferring the data to the biometric device or Smartphone APP.
Employees access the activities on a dropdown menu on the device/s itself when clocking. Specific activities can be set to only appear on selected devices, making the dropdown selection simple and uncluttered.
The ERS Biometrics devices link with electronic scales through RS232 to captures the weight or quantity of products. The data in linked to the employee through fingerprint and can be linked to job codes for reporting, payment or analysis purposes.
Management of a payroll accurately is one of the easiest ways to ensure cost-savings and improve efficiency. Through the ERS Biometrics Payroll Bureau Module, it is possible to accurately track clocking times and act on any indiscretions quickly. The ability to act on problems like these before they become a trend allows companies to cut down dramatically on lost work hours.
Payroll runs will also become a lot more accurate, as employers would have accurate logs of their employees' clocking times. Our Payroll Bureau Module provides a platform for the capturing of all employee personal details, inclusive of allowances, tax, medical, duties, banking details, pay, etc.
Our Software Is Compatible With: