The ERS Web Clocking Module will allow employees to clock IN and OUT on the ERS software at their workstation, be it at work or from home, as an alternative or in conjunction with the traditional clocking methods.
Multiple employees can be clocked IN or OUT on one workstation
Blocking / allowing of certain IP addresses, ensuring that employees cannot clock from home unless granted permission to do so
The interface can be dragged into any position on the screen
Shows employees T&A stats, broken down into Hours worked, Breaks and Total hours
Automatically synchronize every 60 seconds with the ERS Biometrics Cloud Software
Allows for Facial Verification for extra security 
The ERSBio R14 APP is a SmartPhone Time and Attendance Clocking APP that enables employees to clock IN or OUT from a remote location, using the phone's GPS functionality to plot them on Google Maps to verify their location. All clocking information is viewable in the ERS Biometric Time & Attendance Module, giving you extensive tools and reports to properly manage your remote employees' time worked.
Links to the ERS Biometrics Time and Attendance Software
GPS coordinates of clocking locations
Geofencing
Plot clocking on Google Maps
Photo function for visual evidence
Clock multiple employees
Job Costing functionality
Supports external fingerprint module 
ERS WATCHDOG - PRODUCTIVITY MONITORING
Monitors Desktop activity
Categorizes activities as Productive, Unproductive, Blocked
Alerts when unpermitted program / site accessed
Auto log OUT if inactive
Comprehensive Reporting
Exports to Time & Attendance
Can link to both Facial & Fingerprint Verification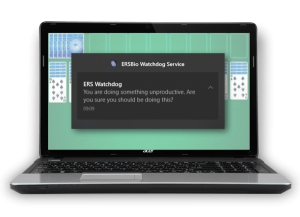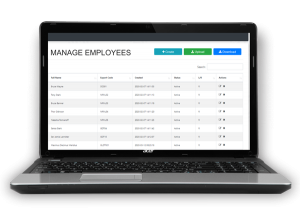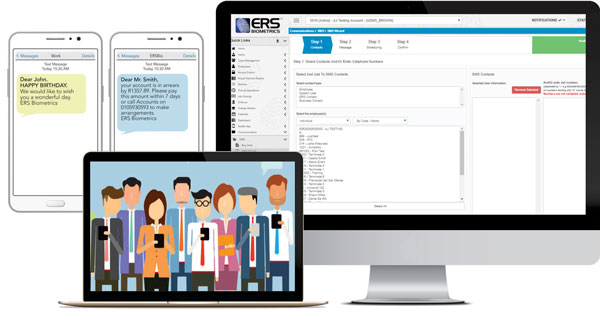 The ERS Biometrics Communication Module enables businesses to send personalised bulk SMS messages to their database of employees or clients, as well as suppliers, from a central point.
Send messages immediately or schedule them
Personalise messages
Incorporate data from any field (Amount Due, etc.)
Save Template messages
Sends automatic messages for special dates (Birthdays etc.)
Allows for reply messages
Comprehensive reporting